R & R Aesthetics provides the most effective, clinically proven Dysport Treatment to reverse the signs of aging, such as fine lines and wrinkles. We provide Dysport to address the root cause of wrinkles and ensure natural, anti-aging results.
Sessions: 30 minutes
Dysport – $12/unit
If you're seeking Dysport treatment in Roswell, Georgia please contact R & R Aesthetics today.
Our service areas include Milton, Atlanta, Roswell, Alpharetta & Sand Springs in Georgia.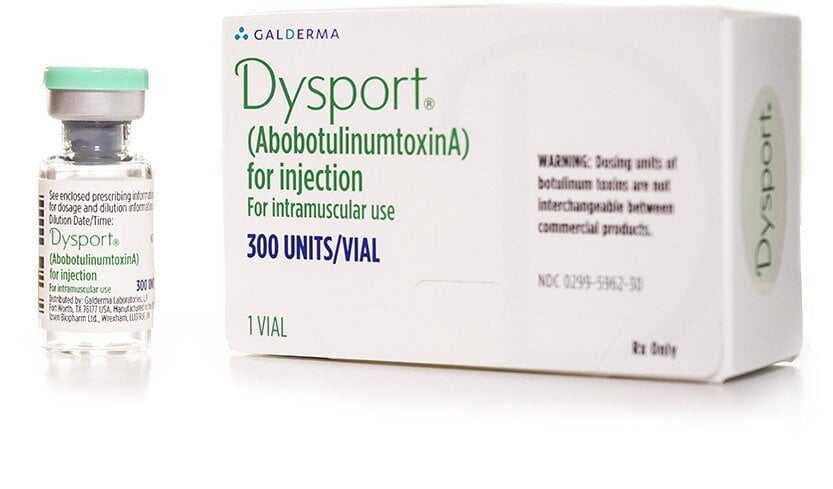 Dysport®, otherwise known officially as botulinum toxin A, is a type of injection used for the treatment of wrinkles and it's been FDA-approved since 2009. One of the leading competitors to Botox®, this non-invasive treatment temporarily decreases muscle movement in the target areas and softens the appearance of any glabellar lines between your eyebrows and your forehead. It's also used for specific muscle-based medical conditions.
If you're bothered by severe glabellar wrinkles, you may be a perfect candidate for Dysport® injections. Visit R & R aesthetics located in Roswell, Georgia.
What Does Dysport® Treat?

Dysport is most commonly used to treat glabellar lines. These are the vertical wrinkles that run from between your eyebrows and up to your forehead. Over time, elasticity decreases and these can start to become more and more prominent, especially when squinting.
Dysport® fillers are recommended only for those with moderate to severe glabellar lines. Those with mild glabellar lines will likely not be good candidates for Dysport®.
Dysport can also be used for either adults or children who are suffering from severe muscle spasticity of the limbs.
TREATING THE ROOT CAUSE OF WRINKLES IN ROSWELL, GA
How Are Dysport® Injections Performed?

The Dysport injection procedure is a fairly quick and simple one. Throughout the procedure, your provider will make several injections of Dysport® strategically around different areas of your forehead and eyebrows. Your doctor may first apply a small amount of topical anesthetic to ease the discomfort, although the procedure shouldn't cause any significant discomfort or pain overall.
The whole procedure will be over in only a matter of minutes, with the majority of the time at the doctor's office being taken up with preparation. Once the Dysport® injection procedure has been completed, you will be free to leave and resume normal activities without any downtime.
How Long Will Dysport® Results Last?

Typically, most patients who undergo Dysport® treatment will start to see some signs of improvement after just two to three days, with results of the treatment improving your frown lines for as much as four months. One study that looked into the results of patients undergoing Dysport® treatment showed that, out of 104 patients, 88.5 percent showed successful, satisfactory results within just 30 days of the treatment. However, these effects will not be permanent, so additional injections a few months down the line will be required in order to maintain the results.
It's important to remember to take care when rubbing the injection site soon after treatment. This can increase the risk of the toxin spreading, and also increase the risk of side effects. The American Academy of Dermatology also says that you should wait at least two hours before taking part in any exercise or other types of physical activity.
Which lasts longer, Dysport or Botox?
In general, Dysport and Botox both typically last 4 to 6 months. Our goal is to make your treatment last as long as possible. That means each individual is assessed for which product will give them the best and longest results. That is the purpose of the consultation and will be discussed fully with you.
Is Dysport as good as Botox?
Yes they are equally good but undoubtedly one is superior to the other for any given individual. It depends on exactly where the wrinkles lie and how intense they are. Sometimes a combination of both are used in the same individual. This concept is referred to as "customizing "the treatment which will be assessed and explained during your consultation visit.
What is stronger Botox or Dysport?
They are equally strong but have different ways of working. The goal is to choose the most natural and strongest product for any given individual. Botox, in general, is very strong and stays exactly where injected. On the other hand, Dysport spreads out a little bit like a pebble thrown into a very still lake that forms tiny ripples. That effect is desirable for people with that for people with have wrinkles that are wide in length. Choosing between the two depends on the individual's needs giving them the most natural and longest-lasting results.
Can dysport lift your eyebrows?
This is a very refined procedure because not only must the brows be lifted, but their shape must be perfectly suitable to the rest of a persons face. Furthermore there is a difference between the inner and outer brow. In the end, brightening the eyes and reducing extra skin on the upper lid is the beauty of the "brow lift technique".
CONTACT OUR AESTHETIC ARTISTS TODAY
R & R Aesthetics is a luxurious medical spa where cosmetic science meets artistry. Our certified cosmetic providers are exceptional injectors and cosmetic artists. They curate highly personalized treatment plans to ensure natural, anti-aging results without a trace of cosmetic work.
Please schedule an appointment to discuss your options for wrinkle relaxers and Dysport in Roswell, Georgia.